Promo & Marketing
Our Department of Promotions it's proud of having promoted, Big Stars, and new talents, that have been recognized in the difficult artistic world, thanks to our arduous labor.
We cover Radio, TV, Press, and Digital Radios, also internet places like Facebook, Youtube, Last.fm, Jango, Pandora, Email Blast, etc.
We placed them at radios, of the most important cities across United States and Puerto Rico. Also, we have our team qualified to placed the artists on the competitive music markets, all around the world.
Our work and experience is guarantee 100% always!
Artists and Music promoted
We have a huge variety of artists and Music promoted: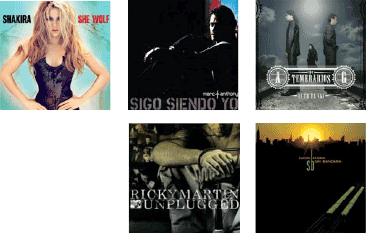 LOS TEMERARIOS "Loco por ti" FONOVISA
SHAKIRA "Loba" EPIC
ALEXA "El Boom" ON TIME
LUZ RIOS "Humano" LCR MUSIC
RICARDO MONTANER "Para un poco" EMI
FLEX "Dime si te vas con el" EMI
CHICO CASTILLO "Sara" LOUDES68/UNIVERSAL
PAOLO MENEGUZZI "Mirame a los ojos" SONY MUSIC
ANDRES CUERVO "Estoy Aqui" VIVA MUSIC MEXICO
GONZALO REAL "Sera asi" DESTINY MUSIC
JULIANA BARRIOS "Papi" MEGABICHE MUSIC
VICKY ECHEVERRY "Te Cambio" VIVE MUSIC
VICTOR MANUELLE Y SIN BANDERA "Maldita Suerte" SONY BMG
MARC ANTHONY "Que Precio tiene el cielo" SONY BMG
SIN BANDERA "Si tu no estas" SONY BMG
MARC ANTHONY "Lo que no di" Sony BMG
CHAYANNE "No se por que" SONY BMG
ANA TORROJA "Hijo de la Luna" SONY BMG
LA OREJA DE VAN GOGH "Dulce veneno" SONY BMG
FRANKIE J "Pensando en ti" SONY BMG
ALICASTRO "Uno nunca sabe" SONY BMG
RICKY MARTIN "Tu recuerdo" SONY BMG
VICTOR MANUELLE Y YURIDIA "Nuestro Amor se ha vuelto ayer" SONY BMG
JENNIFER LOPEZ "Que hiciste" SONY BMG
MELINA LEON Y LOS TRIO "Amada Mia" SONY BMG
BELINDA "Luz sin gravedad" EMI TELEVISA
CHRISTIAN DANIEL "Me canso la soledad" BAD BOY LATINO
JENNIFER PENA "Como entender" UNIVISION MUSIC
XTREME '"Shorty, shorty" LA CALLE RECORDS
BNK "Perdoname" VENE MUSIC
YOLANDITA MONGE "Y todavia" LA CALLE RECORDS
JOHNNY RIVERA "Dime" UNIVERSAL MOTOWN
ENRIQUE IGLESIAS "Dimelo" UNIVERSAL MUSIC
EDWIN RIVERA "Llorando" MACHETE MUSIC
BARULLO "Donde Estabas tu?" TALENT BEACH MUSIC
TOBY LOVE "Amores como el tuyo" SONY BMG
DANILO ROSERO "Fin de Semana" J&N
BARULLO "Tiempo de Boleros" TALENT BEACH MUSIC
MARIANO "Sin medir distancia" AT MOLINA INC
ALBERTO BARROS "La Palomita" TALENT BEACH MUSIC
JERRY RIVERA "Cuesta Abajo" EMI TELEVISA
MARLON "La Bilirrubina" LA CALLE RECORDS
CICLON "Cuanto duele perderte" LA CALLE RECORDS
ANA ISABELLE "Cuando no estas" LA CALLE-APOLLO MUSIC
OLGA TANON Y JENNI RIVERA "Cosas del Amor" UNIVISION MUSIC
DLG "Quiero decirte que te amo" LA CALLE RECORDS
NEGROS BY WASON "Con las manos vacias" PREMIUM LATIN MUSIC
MYRIAM HERNANDEZ "Donde hubo amor" LA CALLE RECORDS
GABRIEL "La distancia" KLASICO RECORDS
CRISTAL MARIE "Tu y Yo" ON TIME
MANU "No pretendo ser" ALECO RECORDS
CRISTAL MARIE "Esta noche tengo ganas" ON TIME
ALBERTO BARROS "Ahora me toca a mi" TALENT BEACH MUSIC
MYRIAM HERNANDEZ Y GILBERTO SANTA ROSA "No pense enamorarme otra vez" LA CALLE RECORDS
TITO NIEVES Y MARCO ANTONIO SOLIS "Mi mayor sacrificio" LA CALLE RECORDS